Have you ever watched a group of sports fans watch a game?  I live with two massive Spurs (English Premier League football club) fans.  Neither has played soccer formally.  Yet, if there's a soccer game on the television, they can follow every play, comment on the choices of the players and (if I believe the conversation) would have made more intelligent decisions than the coach, manager and referee combined!
It is not a unique situation.
Take the last 15 months as an example.  Over that period, schools and businesses have faced challenges on a global scale.  As a community we have learned many things.  We've  'pivoted' to online.  We've become accustomed to Zoom, MS Teams, Google Hangouts, HopIn and many other platforms.  We've found new ways to deliver services and connect with stakeholders and the innovation keeps on coming.
Yet – through all of this, there's been a thread of "…for now".
…This is how we'll work for now.
…Virtual classes are appropriate for now.
…International mobility is difficult for now.
There's an expectation that things will get back to 'normal' – albeit an expectation that the 'new normal' may be very different from what has gone before.
But…. what have we really learned?  What about the next time?
Are we any different from the armchair soccer fans?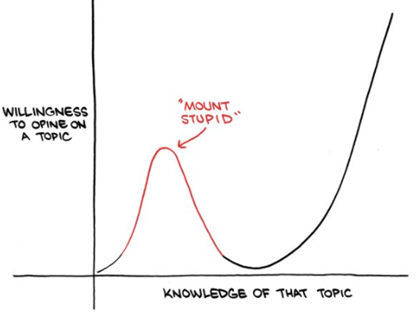 Adam Grant writes about being "Stranded at the Summit of Mount Stupid" (Think Again, Chapter 2) and the our collective tendency to over-estimate our skill when we know a little about a subject.  It makes me wonder…
Am I at risk of being stranded on Mount Stupid? 
 
And, if so, how do I rescue myself? 
One of Adam Grant's top tips to prevent over-confidence is to reflect on how well you can explain something.  As we work through the data from our recent survey 'Changes in Individual Perspective as a result of Covid 19', some clear trends are emerging.  Trends relate to how the pandemic has impacted our lives; how trust has been impacted; the increase pressures arising from the "work-life blur".
Over the next few months, we're aiming to more deeply explore these trends.  Do we have any answers?  Not yet. But, by having the conversation, asking the questions and exploring the issues arising, we seek greater understanding and knowledge of the topic.  The content will be posted weekly (usually on Thursday) under the QED Leadership Lens and we hope find them thought provoking.  As always, we welcome your commentary and feedback.
Full copyright for the graphic above to Zach Weinersmith (www.smbc-comics.com), as replicated from Adam Grant – Think Again